Aunty Ellen's Creative Confections opened its delectable doors in March 2006, but the delicious baking began years before - 19 to be exact! Ellen Fay, the sole owner, creator, baker and cake decorator, began developing her unique ideas out of her own kitchen.

She spent nearly two decades developing her creative skills. Just recently, this chef extraordinaire realized her culinary dream by moving to her cozy new shop in Leominster, MA. Today, Ellen creates specialty wedding cakes for a variety of different locations, such as hotels, resorts, county clubs & banquet facilities ranging from New York to Maine & all over New England.
In addition to cakes, Ellen takes orders for a variety of other mouth watering beginnings and endings such as the Famous Bermuda Rum Coffee Cake, Assorted Rich Chewy Chocolate brownie in numerous flavors, Grand Manier Pound cakes with White Chocolate Truffle drizzle, Cranberry White Chocolate Macadamia Nut Cookies, Amazing Cheese Cakes & Cream Pies (to name a few!)
Alas, we would be remiss not to mention Aunty Ellen's top pick, Carrot Cake...a moist confection filled with bits of carrot, pineapple, coconut and a 'secret ingredient', all covered with a rich white chocolate ganache frosting. Yummy! Whether a cake for a friend, cookies for a child, or an elegant wedding creation, Aunty Ellen bakes with the freshest ingredients, the freshest ideas and most love.
Aunty Ellen's is now the official cake designer for the:

Double Tree Hilton - Leominster
Chocksett Inn - Sterling
Colonial Inn - Gardner
Bull Run - Shirley
Devens Common Center - Devens
Courtyard Marriot - Marlborough
Holiday Inn - Boxboro
Great Wolf Lodge - Fitchburg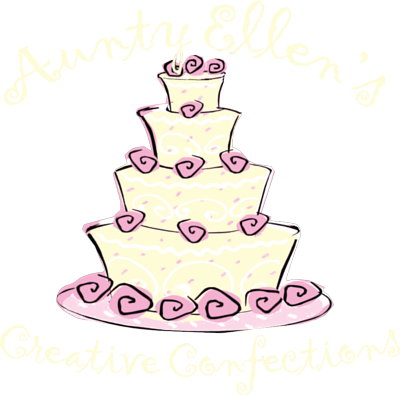 LOCATION 16 Central Street Leominster, MA 01453 978.537.5675