My husband I got married on New Years Day on a beach in Ogunquit, Maine. We only told our families about a week before the ceremony, and my mother was able to get a gorgeous two tiered cake from Aunt Ellen's for our small reception. It was a lovely addition to our special day, and the cake was impeccably designed and absolutely delicious! We got a red velvet with cream cheese filling for the bottom layer, and a dark chocolate with cannoli filling for the top! Everything was perfect, I couldn't have asked for anything better!​
Category - Wedding Cake
Aunty Ellen's made my wedding cake 20 years ago. She was so accommodating she took a class in another state to make the type of cake I wanted. People still talk about how delicious and beautiful my cake was. We continue to use Aunty Ellen's for every special occasion. Quality, taste, variety, service are amazing. I wished there was a higher star than just 5!
Category - Wedding Cake
I loved my wedding cake!! When I was first planning my wedding, I had decided I was going to do a faux cake and sheet cakes because I was trying to save money and stay within my wedding budget. However, I was driving by the Aunty Ellen's Creative Confections and decided to go inside. The rest is history. My cake came out even more beautiful than the picture I had showed them and it tasted delicious. It was very affordable and they even offered vegan and gluten free options for my bridesmaids with allergies. I highly recommend them.
P.s. I want to give a shout out to Lexi who was working at the time I first I went in. She was young but incredibly professional and a really great sales person. She was accommodating, listened well, and politely offered solid suggestions when asked. Thanks Lexi!
Category - Wedding Cake
We knew we wanted to go with this bakery at first taste! Their cakes are so delicious and rich. We went into the shop with a picture of the look we were going for and Ellen ran with it. I could not believe how gorgeous it was on our wedding day! Completely blew away our expectations. Thank you so much!!
Category - Wedding Cake
I just wanted to say THANK YOU. The cake came out amazing, better than I imagined, and tasted amazing! Everyone at the party was in awe with its decor and flavor. I am also thankful for your amazing customer service, very accommodating and extremely friendly and helpful. I will surely be a returning customer
Category - Birthday Cake
Our guests were raving about our cake three weeks later when we came home from our honeymoon! It was not only beautiful and exactly what I described during our consultation, but it was delicious! The best part is, she does not make you take home the top layer and shove it in your freezer for a year! She bakes you the same cake for your anniversary one year later. Thank you to the staff at Aunty Ellen Creative Confections!
Category - Wedding Cake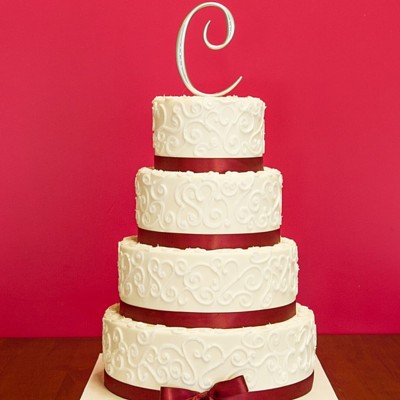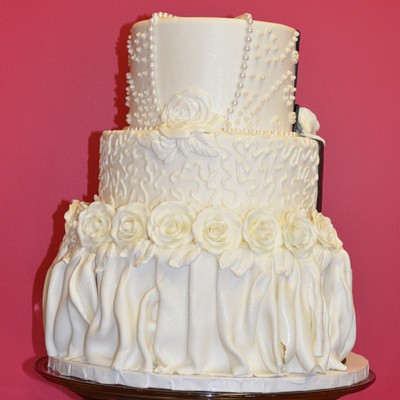 I was planning a combined 70th birthday party for my parents and wanted to surprise them with a special birthday cake. Since my parents have traveled to Aruba for over 20 years, I wanted the cakes theme to be Aruba. I emailed Ellen and her cake designer Chris some photos of Aruba, and Chris called me with the had for the cake. Everyone at the party raved about how cool it was, how perfect it was for my parents and how delicious it was! My dad didn't want to cut the cake - he thought it was too beautiful to eat! Thank you, Ellen and Chris, for helping make my parents party one to remember!
Category - Birthday Cake
I just wanted to thank you very much for the beautiful cake you created for me for our wedding on October 6th, 2018!!
Our day was amazing and we still have people talking about our cake!
Category - Wedding Cake
Hello! I came in today and picked up some keto red velvet cupcakes. I was asked for feedback so here it is. As far as keto treats go, this was a win. It didn't have that cooling sensation erythritol gives, which is what I've experiences at other shops with their keto goods. I don't like that sensation so I was REALLY happy with your cupcake. The cake was a bit bland for me, but I didn't care so much because it had the cream cheese frosting that reminded me of cheesecake, which is my FAVORITE.At home, I use Truvia, which has a little more carbs but leaves my baked good with some sweetness without the cooling sensation on my tongue. I don't know if that would make a difference in the cake itself since I don't know what you use as a sweetener. I really appreciate that your net carb count is so low, I expected higher from a good size cupcake and since the treats I bake at home tend to be closer to net carbs per serving.Anyway, thank you SO MUCH for jumping into keto baked goods. I will most definitely be back for more treats and am excited to try the keto carrot cake cupcake. You guys are awesome!!"
Category - Keto Desserts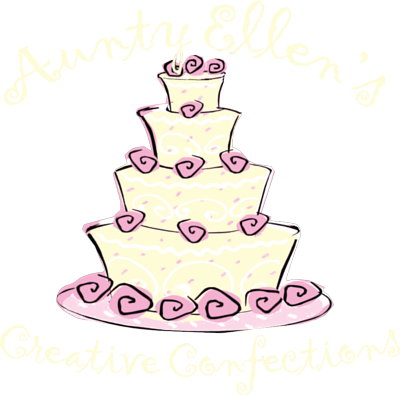 LOCATION 16 Central Street Leominster, MA 01453 978.537.5675